A year ago when my husband and I prepared for an 18 hour drive to Florida with our 3 year old son we initially thought we would keep him entertained like any good American parents- with movies. It wasn't until the day before our trip that I realized the adapter we had wasn't compatible with my laptop. After searching frantically for one that was, with no success, I decided to get creative and make sure the laptop had a full charge just in case my ideas were a bust. I am proud to say we made the whole drive without a mention of my backup plan and all of our trips since have been movie free. So how did I do it? Here are my tips and picks to make your next long car ride just as fun as your destination!
Start early, stop early. The more time they spend asleep, the less time you have to keep them entertained! Make sure you stop at least 3 hours before you want them to go to sleep at night, so they have plenty of time to get out their extra energy.
Lunch at a park or restaurant with a play area. By lunch I mean parents eat and kids play. If there are no play areas, find a patch of grass where they can run. Order their food to-go and let them kill some drive time eating in the car.
Limit liquids and sugars. Liquids mean potty breaks and sugars mean extra energy. Wait to give drinks within the hour you are planning to stop and opt for healthy snacks like whole grain crackers, string cheese or nuts.
Fill one small tote with car toys. On the list of "My Picks" below are some great ideas for fun and educational toys and books that are car-friendly. Its okay to bring some of your child's favorite toys, but do so in moderation. Our rule is, if it doesn't fit in the tote, it doesn't come!
Plan ahead. Are you driving through four states? Google some interesting facts about them. Your preschooler already thinks you know everything so give 'em a little bang for their buck. Are you going to Sea World? Go to the library or download some books on your e-reader about different marine life to enrich the overall experience. Plus, you'll feel super proud when he unleashes his new found knowledge in front of the other patrons.
Surprise! If your planning to get any of "my picks", hide them until your trip! Their is nothing my son loves more than a brand new toy or book. Keep the tote out of reach and out of sight, even in the car. If you set the bag right by the carseat your child will quickly go from one thing to the next and likely leave your backseat a complete mess. Hand your child a "surprise" and let it entertain them until they loose interest. Then, they can hand it back you, you can return it neatly into the bag and surprise them again!
There are a few purchases that are worth every penny when traveling with a preschooler. Here are my picks:
Car Tote
I love the the All-In-One organizer from Thirty-One Gifts for the car. It is the perfect size to set at your feet without compromising any leg room but big enough to fit anything your child needs to stay entertained on a long trip. It doesn't hurt that it comes in cute prints and can be personalized!
Its kind of hard to color or play with toys on your lap when its the size of a preschooler's, so I recommend giving them a surface to play on by purchasing a travel tray. I have this tray from Babies'R'Us and I love it! It clips on and off easily so it stays in place while using it but is simple to remove when they need to get out. The bottom is stuffed with cotton so its super comfy on their little legs. The mat and snack cup are removable so it is very easy to clean. Finally, the very best feature is... the side wall! The lip is about an inch and keeps Hot Wheels and crayons from rolling off the tray and onto the floor every five seconds despite the wiggling creature underneath it.
Preschoolers love imaginative play. If your children are anything like mine, they probably spend a lot of time reenacting scenes from their favorite movie with figurines and stuffed animals in their rooms. Since they are stuck in a carseat and have limited space a magnetic play set is the perfect solution. This one in particular from Barnes & Noble comes with 20 magnets and 4 sheets of play scenes. The best part is they are magnets! No matter how crazy daddy drives, Buzz stays right where he is intended to be. When they are done all you do is close it up and everything is stored in the case no larger than a book! And how fun and easy would it be to make your own? (I feel a future blog coming on...)
Preschoolers love to create, but lets be honest, the car can be a challenging place to work on a master piece, let alone collect them. Providing a small dry-erase board allows them to draw endlessly and when they are done, the erasing mit is equally as fun to use. What is great about this kit from Target is that it comes with dry-erase crayons to avoid the mess and odor of dry-erase markers.
Books seems obvious, but space is limited so chose wisely what books you bring. First, I recommend an "I Spy" kind of book. (Or you can make an I Spy Bottle! learn how to here) We love Walter Wick's Can You See What I See? Toyland Express. Also, Step Into Reading Level 1 books are great for this age. The large print, rhyming words and picture clues make it easy for your preschooler to memorize after you read it just a few times. Then, what preschooler doesn't like stickers? This is why a new sticker book is a must! I prefer the mini sticker books because they are cheap and hardly take up any of your precious space.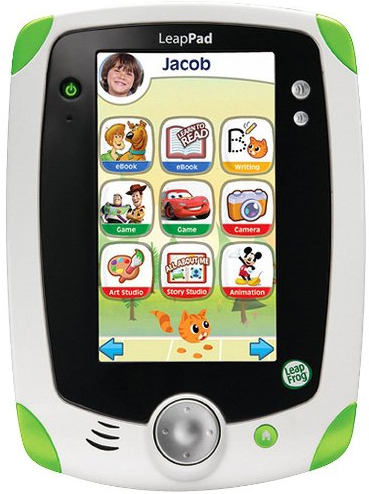 The Leap Pad is a bit of a splurge, but it has been a life saver for us. I have always been very anti-video game, but whats great about the Leap Pad is that all the games are educational. Interactive eBooks are also available for download or purchase. Thanks to the Leap Pad my son was writing all his letters, doing simple math and reading some sight words before he turned four. It also has a built in camera so your preschooler can take pictures all trip long! Not willing to spend the money? If you have a smart phone or tablet you are willing to let your child use, there are so many learning apps that can be downloaded for cheap or even free.
That is how we stay entertained in the car. What are some of your tips and picks for long car rides? Please comment and let us know!
Happy travels!